Subscribe to our newsletter and boost your IT I.Q. with
IP news, hot tips, updates and more.

Get yours today!
We'll never share your address. You can opt out any time.
This is a free publication. Please review our
Privacy Policy
.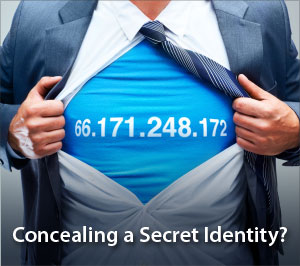 What is Tor?
If you go online a lot, you might have heard the term "proxy" or "proxy server". A proxy server is a website or an IP address that let you assume it's identity in order to access either a website that has been blocked by your ISP, or a website that has blocked your computer's IP. Proxy servers have a lot of uses for even the most basic computer user. Spy-ware, cookies and viruses are just some of the malicious ad-ware programs that you can get while browsing the internet. But people also use proxy servers to conceal their online identity. Websites can track you by several means. One of these means is by your IP address. When you use a proxy server, the website is no longer registering your IP address, they are registering the proxy server's IP address.
So what is Tor? Tor is a free program that will bounce your IP from each of it's relays around the world. Basically, it's just a huge database of proxies that you can access to keep your online identity safe. While using Tor websites will no longer be able to track the physical location of your IP or be able to track what you have been looking at online. Tor has extreme value because it can work with your website browser, remote login applications and even with instant messaging software. Tor is registered as a non-profit company so they mainly run on donations and the reliance that people will become a relay to their network.
People from all over the world use Tor to search for sensitive information on the internet. What most people do not know is that the United States and many other countries have put a national firewall up for their citizens. We cannot access a lot of websites from various places in the country due to this. By the implementation of Tor, we can now have the ability to access that data. Law enforcement uses Tor for their surveillance operations so they do not leave their IP addresses in the web logs.
Even the military uses Tor. When they have their field agents and personnel staying at hotels or accessing their information through a wifi network off base, they enable Tor to protect their data transfers, website logins and passwords. Reporters Without Borders use the Tor Network to ensure their safety when they overseas or in an area of high danger. IT professionals use to Tor to test their company's IP firewalls.
Maintaining online security in this digital age is a must. With all of the identity theft rings and scams online, you want to be sure that you're personal data is secure. When you use Tor, you can have the peace of mind knowing that will not become a statistic to online theft.
Tor can be downloaded from their website.
Related Articles