Subscribe to our newsletter and boost your IT I.Q. with
IP news, hot tips, updates and more.

Get yours today!
We'll never share your address. You can opt out any time.
This is a free publication. Please review our
Privacy Policy
.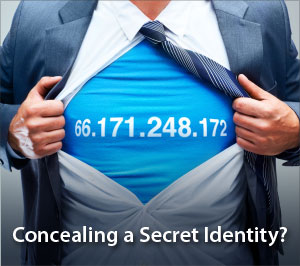 Hide IP
How to Hide Your IP Address
Eager to go into IP hiding? Skip down below and you'll find highlighted links to a variety of online services (Virtual Private Networks and proxies) that can help you hide your IP address.
To help you understand a little bit before you go stealth, read between the links for a brief description of what these services are and what they're all about.
Introducing the Proxy
The most common method to hide your IP address is to use a proxy server in one form or another. A proxy is a computer network that allows its customers to make indirect network connections to the Internet. Technically, your online activity goes to the proxy first, which handles and sends along your requests for information, data, files, email, etc. In each case, your actual IP address is hidden.
The proxy serves up your requests by connecting directly to the source or by serving it from a cache ... a copy of a website that's often requested.
Proxy servers (or simply "proxies") come in a few varieties.
VPN Services
A virtual private network (VPN) protects your data and identity over public networks such as the Internet and wireless hotspots (locations that offer wireless connection). A VPN uses a system of special protocols to create an encrypted tunnel that transports data securely. Whereas a firewall protects the data on your computer, a VPN will protect your data on the Internet.
The goal of a VPN is to implement the same level of security provided by private VPN networks (such as those corporations use) at substantially lower costs. VPN services offer up different "gateway" cities, allowing you to choose where the IP address assigned to your computer is located.
This allows you to access websites typically only available to users from that country. This application is particularly important for travelers who need to access websites from their home country, as well as for people living in regions rife with Internet censorship, such as China and Iran.
Here are a few examples of VPN services:
For a more thorough list please visit our VPN Comparison
Website-Based Proxy Servers
A website-based proxy server provides a place for you to enter the URL of a website that you wish to visit anonymously. When you submit the form, the website proxy server makes a request for the page that you want to visit. The proxy usually does not identify itself as a proxy server and does not pass along your IP address in the request for the page. The features of these sites vary (ad blocking, JavaScript blocking, etc.), as does their price.
Browser-Configured Proxy Servers
There are also stand-alone proxy servers that allow you to route your browser traffic through that proxy, which then makes a request for a page on your behalf and sends you the results. These are usually used at no cost to you. However, because they are available free to the public, they are often slow. Please see instructions for using a proxy server and proxy risks.
There are several of these types of proxies that will hide your IP address:
Anonymous Proxy
This type of proxy server identifies itself as a proxy server. It is detectable (as a proxy), but provides reasonable anonymity for most users.


Distorting Proxy
This type of proxy server identifies itself as a proxy server, but creates an "incorrect" originating IP address available through the "http" headers.


High-Anonymity Proxy
This type of proxy server does not identify itself as a proxy server and does not make available the original IP address.


Related Articles